View this in your browser


News and Views from the VCFSE Sector – October 2021

Autumn has arrived and in our sector it seems like things are more positive with many paid-for jobs available and lots of volunteering opportunities being uploaded to our online volunteer centre.

On 27 September, we held our AGM on Zoom – for those of you who were unable to attend, please have a look at the recording and listen to some very interesting speakers in Suzanne Rolt, CEO of the Quartet Community Foundation and Tamsyn Grant, an Early Years Public Health Specialist.

Our 2020/21 Impact Report and Accounts can be found on our website and the recording can be viewed HERE.

With the mass vaccination booster programmes taking place at a number of Vaccination Sites across Bristol, North Somerset and South Gloucestershire we are looking to recruit more volunteer stewards. If you have some spare time and would like to support this essential programme, then go to our website and register for some sessions: https://bit.ly/3seJv4r

Our monthly newsletter is published during the second week of each month, so if you have any items you would like to see included in future newsletters please make sure we receive this information by the end of the first week of each month by emailing any text, photo's, logo's or promotional material to: newsletter@vansmail.org.uk
Voluntary Sector News

We're still recruiting volunteers to help in non-clinical and stewarding roles across a number of vaccination sites in Bristol, North Somerset and South Gloucestershire (BNSSG).

Volunteers are asked to commit to a session (usually around 4 hours) to cover the daily vaccination programme at a number of Vaccination Sites at GP Surgeries and Community Pharmacy sites across the BNSSG area.

If you're interested in volunteering to support the NHS medical teams, then register

HERE

Once registered, you will be able to see the volunteering opportunities available at the different sites and be able to book the session/s you're available for. You will then receive email confirmation of your commitment.

If you have some free time to support this essential and important programme, then please register NOW
Enterprise Development Programme – a grant & learning opportunity for mental-health focused charities and social enterprises

Application deadline of 4pm on Monday the 18th October (however, the first stage application only takes 45 minutes or so to complete)

Overview:

Income from trading is vitally important to organisations. It generates unrestricted funding that can cover core costs and provides greater financial freedom and flexibility. With that in mind we have designed a programme to enable organisations to get their enterprise ideas off the ground and generate income from selling their products or services.

The programme could be really well placed to help your organisation if it falls into one of the following categories: We have a great idea for a product or service we could sell, and have completed some market research but we need some help to fully assess its feasibility. We have piloted a product or service to sell, but we now need support to fully take it to market We already sell products or services but are keen to grow or strengthen our operations Further information: For further details about the programme, eligibility criteria and how to apply go to: www.enterprisedevelopmentprogramme.org.uk If you have additional questions about the programme – get in touch with Greg Woolley – greg@amhp.org.uk


The Step Forward programme is tailored to each individual on their journey to recovery and well being. Our aim is to support your journey to discovering and utilising your SKILLS & LIFE experience, to enable you to step forward towards a positive future. Discover your purpose in your community by empowering yourself through access to volunteering, employment and training, with ongoing individual and peer support, tailored to meet your needs. SKILLS – we aim to support your journey towards discovering and utilising your skills and life experience. TRAINING – access training and education to support your next step. EMPLOYMENT – tailored employability advice and guidance to help identify new opportunities. PURPOSE – empowerment through volunteering in your community and tailored peer to peer support. For more information about the Step Forward programme, contact Marc Robinson. Tel: 01934 416486/07949 486048 Email: marc.robinson@vansmail.org.uk To download a copy of the Step Forward leaflet, click HERE
KOOTH PARENT & CARER INFORMATION

Kooth is available for young people aged 10-18+ (up to 25 in leaving care or have an additional need) in North Somerset for free, safe and anonymous wellbeing support and advice, accessible from any internet enabled device. This month they are covering a range of topics on their website, including: Beating the autumn blues What is the Mental Health Act Creative Writing Challenge: Autumn You can access Kooth's promotion hub Swivle where you'll find digital resources including posters, videos, Covid-19 infographics, data and resources. You can view 'How to use' Swivle guide here.

Video Link: https://www.youtube.com/watch?v=PEShtD0vTzc
Reprovide in Somerset – working with Perpetrators of Domestic Violence Domestic Violence Intervention research and programme delivery update session

A virtual session for referring professionals in Bath, Somerset and North Somerset: Dr Nate Eisenstadt from the University of Bristol Research team and the Somerset Reprovide team will give an overview of the research and an update about the programme. Reprovide is a free Domestic violence intervention programme for male perpetrators of domestic abuse, Barnardo's have been running weekly face to face groups successfully since July 2020. We are taking referrals from BATH, SOMERSET & NORTH SOMERSET and currently have empty spaces in both our Taunton and Shepton Mallet groups. There will also be an opportunity to ask questions about the programme and the referral/assessment process. Please note that Zoom link will be emailed 24 hours before the session. Please do not hesitate to contact The Somerset Reprovide team if you have any questions about the programme or have a referral you would like to discuss – 07925146873 or email – reprovide@barnardos.org.uk

Dates and Times

To attend one of these dates follow the link to book online. Thursday 21st Oct 2021 12:30-13:30 Thursday 25th Nov 2021 10.00-11.00 If you have any issue with bookings please email nathan.gade@barnardos.org.uk

Please register in advance to attend the meeting by clicking HERE
FREE ELECTRIC BIKE PROJECTS IN THE COMMUNITY

North Somerset Council has successfully applied for DfT support to fund electric bike trials across the region until spring 2022. The project aims to bring first-hand experience of electric bikes to broader audiences and to less represented groups such as older people, BAME communities and people experiencing financial, health or other challenges or inequalities.

If you:

a) work with people who could benefit from this healthy, zero-carbon activity,
b) have a secure storage location for the bikes and
c) have the in-house staffing capacity to run a scheme of this nature,

get in touch with Kerry, Sustainable Travel and Road Safety Officer, on Kerry.oneill@n-somerset.gov.uk It's likely that a handful of bikes will go to delivery partner organisations for a three-month duration.

North Somerset LGBT+ Forum have recently launched some new groups which take place on Wednesdays each month. They also have a new website which illustrates all the support you can get and also how you can support the organisation. 1st Wednesday of the Month: Trans+: North Somerset's new support group for transgender, non-binary and gender-questioning people aged 18+. 2nd Wednesday of the Month: Colours: A safe space for 13-17 year olds who are LGBT+, questioning or allies, to socialise and meet new people. 3rd Wednesday of the Month: Family+: A free social group for parents, guardians and relatives of LGBT+ individuals to ask questions, get support or just pop along for a chat! 4th Wednesday of the Month: 50+: A safe space for members of the LGBT+ community who are over 50 to meet new people and socialise. For more information about any of the groups, please email: support@nslgbtforum.com

FREE MENTAL HEALTH TRAINING COURSES

For anyone working or volunteering within a community setting/organisation within North Somerset, the Public Health Team have recently launched their programme of mental health courses for 2021. Training is free to attendees and is funded by the Healthier Together Communities Coronavirus fund and North Somerset Public Health Team.

To enrol on any of the courses listed below, please click HERE: Mental Health Safety Planning Suicide Awareness Listening Skills Mental Health Awareness Connect 5 Mental Health If after registering you are no longer to attend, you need to give at least 2 days' notice of non-attendance, otherwise you will charged an admin fee of £50.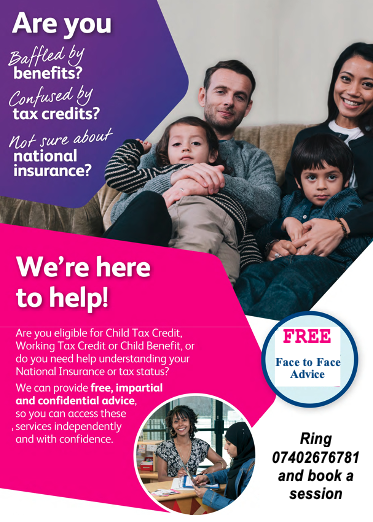 Paid-for Opportunities

Peer Support Worker (p-t)

Salary: £22,183 pro rata We are looking for a highly motivated person with excellent knowledge and experience of using technology to enable visually impaired people to connect with one another. You will have knowledge and experience of connecting devices to the internet and solving problems; experience of teaching IT skills; and a proven ability to build relationships with service users to encourage learning. You will have empathy with people living with a disability and a positive, hands-on approach. You will be based in our office in Weston super Mare but must be willing and able to travel throughout North Somerset to deliver the service. This post is for 18.5 hours per week until 30th June 2022 but may be extended beyond that date if we are successful in obtaining further funding.

For a copy of the job description, person specification and application form please call us on 01934 419393 or email: contact@visionns.org.uk

Closing date for applications: Friday 22nd October

Interviews for this post will be held on Wednesday 3rd November.

Dementia Meeting Centre Manager, North Somerset
(3 days a week, 22.5 hours), 12 month initial contract

£25,000 per annum (pro rata) • 12-month contract • Pension •

Alive is a charity dedicated to improving the lives of older people and their carers. We believe passionately that all older people should feel connected to the world around them and have the right level of activity to enable them to live full and meaningful lives.

This is a great opportunity to join a dynamic and ambitious charity in a sector with huge need as we look to open our very first pilot dementia Meeting Centre in North Somerset to support people living with dementia and their carers.

We are seeking an exceptional person to be our first Meeting Centre Manager. We firmly believe in the Meeting Centre concept, where support is provided to the person living with dementia and their carer in a warm and friendly community environment.

Experienced at working with people living with dementia, you will have strong interpersonal skills, be highly empathetic, have a positive outlook and a collaborative approach to achieving goals. But mostly you will be passionate about dementia care and improving post-diagnostic support.

You will be client facing for 3 days a week, 5 hours per day. You will manage two staff and work with the Alive team to recruit volunteers. You will be responsible for the day to day running, from budget monitoring, to liaising with families and partner organisations. You will be involved in evaluating the impact of the Meeting Centre for attendees.

If you are enthusiastic and motivated to help us put older people's mental health and wellbeing at the heart of our services, we would love to hear from you. Please see the  job description and person specification  for details. 

Applications should be emailed to: info@aliveactivities.org by 12pm on 27 October Please do not send CVs. Initial interviews will be held on 3 November, with second round interviews, the following week.

How to Apply
Please complete the application form, making a compelling case for why you would be the best candidate for this role. If you would like an informal chat about the role, please email or contact Louise Spencer, Meeting Centre Project Manager at info@aliveactivities.org with the header 'Dementia Meeting Centre Manager' plus your name and number, or call the office on 0117 377 4756.




Chief Executive Officer

Full-time post Salary £35,745 – £37,890 (depending on experience) + pension package We are looking for an experienced manager to lead our organisation and drive forward our plans to deliver a person-centred service to people with sight loss living in North Somerset. You will have excellent communication skills; a high level of financial literacy; and a sound knowledge of the voluntary sector, its governance arrangements and relationship with local partners including the statutory sector. You will develop and maintain productive alliances in order to raise the profile of service user needs and aspirations, and will lead our fundraising efforts. We need someone with a vision for the future and an ability to combine strategic thinking with attention to detail. An empathy for people living with a disability is essential, as is a positive, flexible approach to team working. You will be based in our office in Weston super Mare but should be prepared to travel across North Somerset as required. For an informal discussion about this post please contact Roger Burrows, Chair of Trustees rjburro@gmail.com For a copy of the job description, person specification and application form please call us on 01934 419393 or email info@visionns.org.uk . Closing date for applications: Thursday 4th November 2021. Interviews for this post will be held on Thursday 11th November.


Volunteer Opportunities

We have many volunteer opportunities on our website but the following ones have been recently posted – for more information on them, click on the role title:

Active Befriending/Walk & Talk Volunteer – Age UK Somerset

Various Retail Roles – RSPCA:
Retail Volunteer (Whitecross Road, WsM)
Retail Volunteer (Worle)
Retail Volunteer (Yatton)

Volunteer Host for Time for You – Weston Hospicecare

Hydrotherapy Group Assistant – Weston Area Rheumatoid Matters

Volunteer Speaker – WaterAid, North Somerset

Peer Mentor Volunteer – Type 2 Diabetes – Brigstowe, North Somerset, Bristol, South Gloucestershire

Community Fridge Volunteer – Weston Town Council

Pulse Oximeter Delivery Drivers – Sirona care & health, North Somerset, Bristol, South Gloucestershire

Group Helper – The Notable Club, Weston-super-Mare

Puppy Raiser – Guide Dogs UK

Bereavement Volunteer – Weston Hospicecare



The Trustees of Yatton United Charities are looking for a new Clerk to provide them with clerical and administrative support. The charity gives small grants to any resident or non-commercial organisation of Cleeve, Claverham or Yatton who are in need of financial support due to their own limited funds. This post is a voluntary role apart from an honorarium for expenses i.e. phone, stamps etc. The Trustees meet twice a year and annual grants are given out in August. However if there is a need, a grant can also be considered throughout the year. The hours involved are not many. It may well suit someone who has recently retired and looking for something to do for the local community. Please give it some consideration. It really is a worthwhile cause that has given financial help to many local people and organisations. For further information about the post, or if you require an application form for a grant please contact the charity at yattonunitedcharities@yahoo.co or call Alison on 07855 496779


Funding Opportunities

There are a number of organisations offering charities and community organisations the opportunity to apply for grants/funds to help them through the COVID-19 outbreak and beyond – to find out more go to our website or follow us on Facebook where we regularly publicise grants and funds that are available – sometimes these have short notice periods so it's essential to react quickly so we promote them via our Facebook page as soon as we are aware of them.
Copyright © 2021 Voluntary Action North Somerset (VANS), All rights reserved.
Our mailing address is:
Voluntary Action North Somerset (VANS)
Weston Court, Oldmixon Crescent,
Weston-super-Mare, North Somerset. BS23 9AU