A daily study of the Network's diverse faiths
Bhai Dooj (Dwitiyaj). The second day after the Hindu festival of Diwali marks its end and is unique in nature as it is solely dedicated to strengthening the strong bond of love between a brother and a sister, an eternal, unconditional love between siblings. The day is associated with the legendary tale of brotherly love between Lord Yama (यम, Yamaraja, Kala, Dharmaraja), the Hindu God of Death and Justice and his twin sister Yami (यमी, Yamuna, Kalindi, the first woman) the Goddess of the River Yamuna. They were children of Surya, the Sun God and his wife Saranya, the cloud Goddess. After several decades of separation, Lord Yama decided to visit his sister and, when he went to meet her, he was touched by the warmth and hospitality she showed. Yami welcomed her brother with a full fanfare and respect and put a tilak coloured spot of rice and vermilion on his forehead to mark the occasion. Yama blessed her and announced that henceforth a brother who greets his sister on this day will have a long life. After the brother's forehead is marked, there is an arti (आरती) religious worship ritual as part of the puja (homage) in which light from a flame is offered to the deities and songs of praise may be sung to them. The brother offers presents to his sister, followed by the partaking of sweets as part of a special meal. The brother promises to protect his sister from troublesome situations whilst the sister prays for her brother's longevity. All the days of Diwali enrich human bonds as people rise over distinctions of caste and creed to embrace the divine light of oneness. Image: astroyogi.com.
San Leonardo (St Leonard of Noblac or Limoges, Leonhard, Léonard, Annard) (d559). Feast Day for Frankish nobleman who was converted to Christianity by St Remigius, Bishop of Reims, at Christmas 496. Leonard became a hermit in the forest of Limousin, where he gathered a number of followers and became one of the most venerated saints of the late Middle Ages. His intercession was credited with miracles for the release of prisoners, women in labour and diseases of cattle. He declined the offer of a bishopric, a prerogative of Merovingian nobles, and entered the monastery at Micy near Orléans. Through his prayers, the Queen of the Franks safely bore a male child and in recompense Leonard was given royal lands at Noblac, Limousin where he founded the Abbey around which a village grew, named in his honour Saint-Léonard-de-Noblac, and became its Abbot. Prisoners who invoked him from their cells saw their chains break before their eyes and many came to him afterwards, bringing their heavy chains and irons to offer them in homage. A considerable number remained with him and he often gave them part of his vast forest to clear and make ready for the labours of the fields, that they might have the means to live an honest life. Venerated in Roman Catholic, Eastern Orthodox, Anglican Churches. Patron of political prisoners, imprisoned people, prisoners of war, captives, women in labour, horses. Image: catholicnewsagency.com.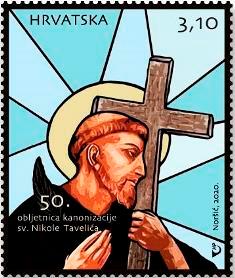 Sv Nikola Tavelić (St Nicholas Tavelic OFM and Companions, Свети Никола Тавелић) (c1340-91). Franciscan celebration of Croatian religious, priest, friar and missionary who was the first Croatian saint and was martyred in Jerusalem with four companions, including friars from Italy and France. He became a monk in the Franciscan monastery in Bribir, the seat of the powerful Šubić Croatian noble family. Tavelic was among sixty friars motivated by the papal bull Prae cunctis to work as missionaries in Bosnia, combatting Bosnian heresies. Tavelic spread Catholicism in Bosnia for twelve years and his missionaries converted about fifty thousand people to the Church. He went on to serve in the Custody of the Holy Land at the ancient Monastery of Mount Zion, spending some years learning Arabic and serving at the holy sites connected to Jesus' life, which had been entrusted to the care of the Order of Friars Minor and which still drew pilgrims from Christian Europe. He decided to preach the Christian faith openly the to the Muslim populace and went with his companions to the regular gathering before the Qadi (شريعة) Sharia Court of Jerusalem, where they were arrested. They refused the option to convert to Islam, were imprisoned and sentenced to death and martyred on 14 November 1391 near the Jaffa Gate in Jerusalem, Mamluk Sultanate, their remains being completely burned. St Nicholas is venerated in the Catholic Church. Feast Day 14 November. Image: epostshop.hr.
Prayer Almighty God, You glorified St Nicholas and his companions for their zeal in spreading the faith with their crown of martyrdom. Through their prayers and example, please help us to follow Your commandments and thus receive the crown of eternal life. We ask this through our Lord Jesus Christ. Amen