A daily study of the Network's diverse faiths
San Giuseppe da Copertino (St Joseph of Cupertino OFM Conv) (1603-63). Feast Day commemorating the death of the Italian Conventual Franciscan Friar and Confessor born in a stable in Copertino ten miles from Lecce and honoured as a Christian mystic. A lifelong severe ascetic, he ate solid food only twice weekly, adding bitter powders to his meals and passing thirty-five years following this régime. He was not an intellectual and was prone to miraculous levitation at prayer and intense ecstatic visions, which began in childhood and made him an object of scorn, levitation being believed to be connected with witchcraft. In 1620, he applied to the Conventual Franciscan Friars in Martino, north of Taranto but his ecstasies made him unsuitable for the duties and he was put to care for the friary mule of the order near Copertino. He so impressed the Friars with the devotion and simplicity of his life that he was admitted to their Order and became a Catholic priest in 1628. He was sent to the Our Lady of Grace Sanctuary (Santuario Madonna delle Grazie) 40 miles southwest of Bari, where he spent the next 15 years. His levitating during Mass and in the community gained a widespread reputation of holiness but he was deemed disruptive by his religious superiors and the church authorities and eventually confined to a small cell, forbidden from joining in any public gathering. Denounced for witchcraft, Joseph was investigated by the Inquisition and transferred from one Franciscan friary in the region to another for observation, first to Assisi until 1653 and then to Pietrarubbia and Fossombrone, where he lived with and under the supervision of the Capuchin Friars until 1657. Finally, on 9 July 1657, Joseph was allowed to return to a Conventual community, being sent to Osimo, 9 miles south of Ancona, where he died on 18 September 1663. Venerated in Roman Catholic Church (Franciscans). Major shrine Basilica of St Joseph of Copertino, Osimo. Patron of the cities of Copertino and Osimo, aviation, astronauts, mental handicaps, examinations, students. Image: youtube,com.
Dag Hammarskjöld (Dag Hjalmar Agne Carl Hammarskjöld) (1905-61) Lutheran Commemoration of the death of the renewer of society born in Jönköping, a Swedish statesman whose father served as Sweden's prime minister. His mother was deeply religious and the friend of a strong advocate of Christian ecumenism, the two settling disagreements and working together. Dag rejected his family's Lutheran faith and became an economist and chairman of Sweden's National Bank. In his search for spiritual meaning, he read the writings of Christian mystics. His fairness, moral rectitude, hard work and conscientious attitude led to his being made in 1953 the second and youngest Secretary-General of the United Nations, in a world that was slipping into the Cold War. He resolved the serious crisis when Egypt's President Nassar nationalised the Suez Canal and France and Britain invaded the Sinai. He died in a plane crash on 18 September 1961 in Ndola, Northern Rhodesia, Federation of Rhodesia and Nyasaland (now Zambia), travelling to defuse a situation in the Congo. His efforts to resolve various global crises led to his being the only posthumous recipient of the Nobel Peace Prize. His collection of spiritual jottings was published as Markings and included today's prayer, which showed that he had found personal faith in God. Markings also refers to the hours of Christ's crucifixion: "The third hour and the ninth are here and now. Jesus will be in agony even to the end of the world. We must not sleep during that time and for the watcher in the far-off present in his contact with mankind at every moment, Jesus dies in someone who has followed the marks of the inner road." Image: en.wikipedia.org.
Prayer Before Thee, Father, in righteousness and humility with Thee, Brother, in faith and courage in Thee, Spirit in stillness. Thine, for Thy will is my destiny, dedicated, for my destiny is to be used and used up according to Thy will in love and patience, righteousness, humility, faith and courage. Amen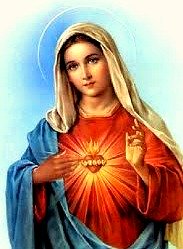 Onze Lieve Vrouw van Smelcem (Our Lady of Smelcem). A small statue of the Virgin Mary was found in the Tenth Century in a niche of the rocks at the end of a Flanders pasture when the sheep knelt down. The news spread throughout all Flanders and the faith of people's sudden pilgrimages occasioned Baldwin IV, Count of Flanders surnamed Fair Beard, to visit Our Lady of Smelcem seeking a cure for a malady from which he had suffered for seventeen years. Praying to the Mother of God for relief, he was miraculously cured and built a church in thanksgiving for having received the favour of the Blessed Virgin. Image: © Copyright 2011 Roman-Catholic-Saints.com.